Recently, South Africa's 41,000 white farmers (approx. 150 thousand people), mainly Boers – descendants of Dutch settlers, unhappy with the South African government's land reform program, said they are moving to Georgia, which offered land to them at giveaway rates.
Boers were shown on Georgian TV in late August 2010 signing a memorandum of cooperation between the Georgian government and the Transvaal Agriculture Union (TAU).
The main point of the memorandum is the offer from Georgia for Transvaal farmers to move and transfer their agricultural businesses to Georgia.
Georgia's State Minister for Diaspora Affairs, Papuna Davitaya, says that Georgia is ready to receive all the white farmers of South Africa, give them free land and simplify obtaining all the necessary documents.
The Boers are to reciprocate by engaging – like at home – in wine production and animal husbandry.
On the surface, the Boers relocation to Georgia might be seen as nothing short of an economic decision, that of business men going where the profits is, but the reasons are more fundamental than that.
Since the end of apartheid, South African whites, previously privileged, have had to live under what is now been referred to as 'reversed discrimination', which they say is driven mostly by the country's Black Economic Empowerment scheme or BEE designed to encourage employers to hire blacks workers over more qualified whites.
The BEE is a form of affirmative action designed to balance out economic empowerment in the former apartheid nation by creating equal opportunities between blacks and whites. Whites say BEE is discriminatory and takes jobs away from qualified white youths, but the ANC government argues that the whites benefited unjustly from the educational system of the apartheid era, which was greatly lopsided in favour of whites.
The contentious land reform program – a part of the BEE program – aims to redistribute lands to landless blacks under a land reform process, which, the government hopes, would eventually correct a land ownership imbalance that concentrates over 85 percent of arable land in the hands of about 41, 000 Boer farmers.
Currently the South African government operates a 'willing-seller-willing-buyer arrangement', but a growing number of black elites – most vocal of which is Julius Malema, the controversial leader of the Youth wing of the ruling African national Congress – the ANCYL – and liberal whites, are advocating a land redistribution scheme similar to that of Zimbabwe.
White South Africans point to Malema's kind as reasons why they feel unsafe in South Africa. Many believe attacks on white farmers stem from statements from hardliners like Malema.
They say their lives are getting harder every month, citing fears of crime, violence, labour costs and land reform. They are living in fear, enough to willingly give up the sunshine of South Africa for Georgia's bitterly cold winters.
"Land is available in Georgia, but the Government knows that it only has small scale farmers who don't have the skills to be commercial farmers," said Bennie Van Zyl, head of the TAU, "It realised that in SA we have a lot of skilled, capable workers but a government that is no good for us. The biggest problem we face is rural safety - farmers are being killed in their beds and that is not something we are proud of," He added.
However, beyond the racio-political undercurrents that had likely triggered the move, the rainbow nation's economy will definitely be the worst for it. The white farmers dominate the commercial agricultural sector of the economy. It is estimated that more than 8 000 commercial maize producers, mostly whites, are responsible for the major part of the South African crop, while thousands of small-scale producers produce the rest.
The migration of these farmers may further worsen the declining food production in South Africa. Although the country has the ability to be self-sufficient in virtually all major agricultural products, the rate of growth in exports has been slower than that of imports. The only increase in agricultural export volumes occurred during the period of exchange-rate depreciation in 2002 and came to about nine million tons (mt).
The fears for the South African economy in the wake of an exodus of Boer farmers seem to count for something to the TAU.
Mr Van Zyl says, "We've been asking the Government what will happen to the economy if commercial farmers leave for a long time - 10 years, in fact - and they don't want to listen. They make it into a racial issue - black against white. But it's nothing to do with that. In South Africa, we don't get any subsidies from the Government. In Georgia, it's different. If you need running water on your farm, it's the Government's responsibility to provide it."
There is also, what many Boers see as a lack of willingness on the part of the black farmers to do much with the land they get from the redistribution process. There are several cases of repossessed farms falling into ruin as the farmer concentrates more on subsistent agriculture, neglecting commercial farming, which has for decades being one of the mainstays of the South African economy – a point the Boer farmers are wont to stress. It is however hoped that instances like this will get rarer as farm hands that successfully worked with Boers get access to arable lands.
Already, a Boer farmer, William De Klerk has received Georgian citizenship – the first of a probable 150,000.
"The idea of the Georgian government to bring the farmers here is very good. They can contribute a lot to Georgia. The situation in South Africa is getting worse every day. If Georgia will guarantee the personal safety of Boer farmers and their property, then this initiative will have great success "- says De Klerk.
Van Zyl, seem to agree: "Every farmer must decide whether or not he will go to Georgia. Here (in South Africa) our main problem is the security. Since the black majority came to the government, more than 3000 farmers have been murdered. Often even the police take part in the attacks. We do not know if we will have any land left. We have great experience and we are well known on the international market. " he said.
Speaking on Georgian TV, Van Zyl said that the South African government is forcing white farmers give away 30% of their land to the blacks, but black farmers do not produce anything and do not want to produce.
The South African government disagrees with the claims of gradual genocide by the Boers. However, white South Africans insist their claims are not far-fetched and official records agree that close to 3000 whites have been killed since the end of apartheid. It may be instructive to note that South Africa is renowned for its violent crimes – Alana Bailey from the white advocacy group AfriForum, says crime is the main reason whites are leaving. On average, about fifty people, black mostly, are killed every day in South Africa – and the history of racial discrimination is still too fresh in the minds of adult South Africans for clashes to be surprising.
Still, most whites believe they are more prone to attacks than blacks because of their skin colour, countering the position of analysts who believe most of the attacks, on people of both races, were motivated by extreme poverty among black South Africans, many of who believe the whites are responsible for their plight.
Georgia seems not to care much for the politics involved in the move. As he welcomed the delegation from South Africa Mr Davitaya said, "We are looking for investors in our agricultural sphere, because Georgia historically always used to be an agricultural country but in Soviet times we lost these traditions."
"Boers are some of the best farmers in the world," Davitaya added.
Georgia hopes that importing farming expertise will boost the country's agricultural and wine sectors. Political dispute with Russia – where Georgian wines had a ready market – led to banning of all imports from Georgia. A success of the current scheme would benefit Georgia, which is hoping to reap from the success of South African wines.
Another Boer farmer, Piet Kemp, who is keen to emigrate, said, "We will start with 10 or 20 farmers, but I think there could be more than 1,000 farmers who could make a good life in Georgia."
However, the move is not without its critics.
The Georgian opposition politicians are already complaining that the new arrivals will get the best lands at knockdown prices while Georgian farmers are ignored. In South Africa, there is unease at the economic impact of the possible relocation of some the country's best farmers and what this portend for the future of Africa's biggest economy.
Analysts argue that though Boers farmers do not hold any rightful deeds to lands obtained under a flawed Apartheid era law that prevented Blacks from owning land (The Native Lands Act of 1913 prohibited the establishment of new farming operations, sharecropping or cash rentals by blacks outside of the reserves), the government should operate a gradual repossession policy that will not alienate the white farmer.
More subtly expressed is the belief that the Boers are not really going anywhere, at least the majority of them, but are just making political statements, to shock the government into easing off on the controversial land reforms. Mr. Van Zyl said he hopes news of Georgia's offer will make President Zuma sit up and listen to the needs of white (Afrikaner) farmers.
"We want to stay here, this is our country ... but to stay is not possible for us anymore unless something changes - and soon." He said.
A position that some analysts believe will not make much headway, as most South Africans believe Zuma to be not just a populist, but also a statist, Hence there is a great temptation to redistribute some white-owned farmland.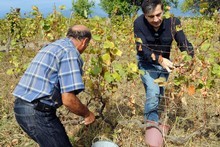 Though strong reasons abound to fear the aftermath of the relocation of some of South Africa's more experienced farmer to other lands, there is however hope of a reversal. Bridgette Lightfoot of Homecoming Revolution, who lived abroad for many years, returned to last year and believes South Africa has plenty to offer whites and is encouraging them to follow her example and return home.
She says, "I myself have lived overseas for six years and I've been back for eight months and we really don't feel that there is this racial prejudice against white people. We think it's a wonderful country, we there's a lot of opportunity for people of all colours, and we encourage those people who want to make a difference and return home to do so."